Bislin, Rolf and Diener, Kilian (2016) CCGLadiator. Student Research Project thesis, HSR Hochschule für Technik Rapperswil.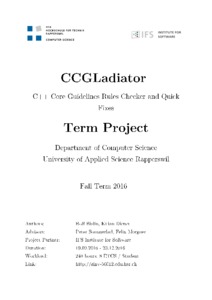 Preview
Text




HS16-SA-EP-Bislin-Rolf-CCGLadiator.pdf

- Supplemental Material
Download (1MB) | Preview
Abstract
"Within C++, there is a much smaller and cleaner language struggling to get out."
— Bjarne Stroustrup, The Design and Evolution of C++
To extract this smaller and cleaner language, Bjarne Stroustrup and Herb Sutter released the C++ Core Guidelines in 2015 which describe a multitude of rules. These enforce the use of modern C++ which is a resource-leak free, statically type-safe and overall simpler and safer language.
In this project an already existing plug-in for the Eclipse CDT environment is extended which checks written source code for violations of the rules provided in the Core Guidelines, highlights them and offers Quick Fix options to repair the faulty code in an instant.
In the scope of this project several new rules from the sections "C: Classes and Class Hierarchies" and "ES: Expressions and Statements" are added with the according Checker and Quick Fixes.
Actions (login required)