Kyburz, Cyril and Scheiwiller, Sandro (2019) SensorFlow. Bachelor thesis, HSR Hochschule für Technik Rapperswil.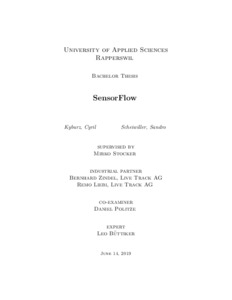 Preview
Text




FS 2019-BA-EP-Kyburz-Scheiwiller-Sensor Flow.pdf

- Supplemental Material
Download (10MB) | Preview
Abstract
Our industry partner LiveTrack installs sensors to monitor the filling level of containers. The collected data is used to optimize certain attributes of the collection of the container content, such as the time of departure and the route of the truck. In order to map sensors to containers, the technician must inform LiveTrack each time a sensor is installed or removed from a container. To solve this problem, we have developed a progressive web application that allows a technician to track his work. The app is already live and enables LiveTrack to easily maintain sensors and containers. Through its first productive use, LiveTrack has already gained new ideas to expand the capabilities of the app.
Actions (login required)