Faic, Patrick and Moosmann, Benjamin (2019) Real-time analytics in the network. Bachelor thesis, HSR Hochschule für Technik Rapperswil.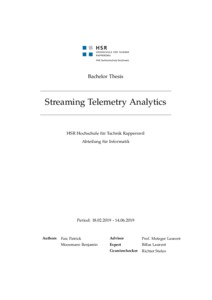 Preview
Text




FS 2019-BA-EP-Faic-Moosmann-Real-time analytics in the network.pdf

- Supplemental Material
Download (1MB) | Preview
Abstract
For a network operator it is crucial to see the routing of data packets through a network.
Classic network monitoring tools mostly monitor the lower OSI layers with the help of SNMP, with traps and periodic polling. Some advanced network monitoring tools were even able to draw all links and devices of a network and find out which protocols were running where based on SNMP data.
With the introduction of new technologies like Segment Routing, the path taken in the network can depend on the service and its assigned requirements (e.g. QoS, bandwidth, etc.). A modern monitoring tool should be able to show these paths per service in a dynamic way.
Another technological enhancement in the network domain is Streaming Telemetry. It opens the door to near real-time monitoring of a network in a very efficient way since its using a push and not a pull model like SNMP does.
Actions (login required)