Etter, Marc and Bächli, Patrick Silvio (2020) Code Panorama. Bachelor thesis, HSR Hochschule für Technik Rapperswil.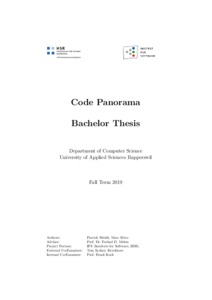 Preview
Text




HS 2019 2020-BA-EP-Etter-Bächli-Code Panorama (Reserviert.pdf

- Supplemental Material
Download (2MB) | Preview
Abstract
CodePanorama is a tool for software developers, reviewers, and consultants. Its goal is to assist in identifying points of interest within a code-base to review. A software developer might join a new project and want to quickly find the most interesting parts of the code to get started. A supervisor must review the results of a project but does not have the time to look at the entire code-base. Instead, they look to CodePanorama to make an educated guess as to where their efforts should be focused.
Actions (login required)